The Clockface
On this clockface, the activity data is displayed as vertical bars, the height of which increases in accordance with the approach to the daily goal. When you reach the daily goal for a value, the bar goes to the top of the display. At the same time, you will be rewarded with a (white) star. If you continue to exceed your daily goal, the star color changes - when you reach 1.5 times the daily goal to silver, when you double the daily goal to gold.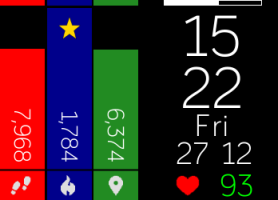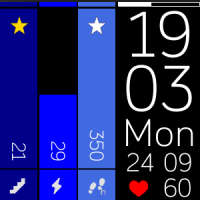 Download-Link: CD Digital BT
Rating: 4.1 


Number of ratings: 221
The following operating options are available on this clockface:
Tap the upper left corner of the display: switch/toggle the data group
Double-tap the upper right corner of the display: Switch on/off the integrated flashlight.


Data group 1: Steps/Calories/Distance
Data group 2: Floors/active minutes/hourly steps
The pulse is colored depending on the current heart rate zone:
White: below fat burning
Green: fat burning
Yellow: cardio
Red: peak level
Star colors:
- white: daily goal reached
- silver: 1,5 x daily goal reached
- gold: 2 x daily goal reached

 
The Settings on the Smartphone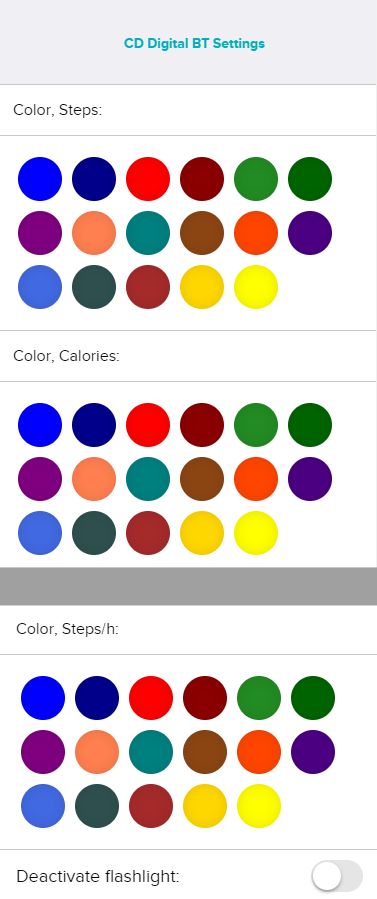 In the settings on the smartphone, you can
select individual colors for each data bar,
switch off the flashlight function.