The differences between VirtualPartner and VirtualPartner X are described here.
Direct download link: VirtualPartner
Rating: 3,5 


Number of ratings: 44
Preliminary note
VirtualPartner is the original running app that was developed immediately after the Fitbit Ionic appeared. With the appearance of the Fitbit Versa, this was also expanded for this watch. However, since it was initially not possible for the Fitbit Versa for third-party apps to use the GPS of the smartphone, the option was implemented to use the VirtualPartner by evaluating the steps - without GPS. Due to the principle, however, this is only of limited accuracy.
Since newer operating system versions finally made it possible for third-party apps to use the GPS of the smartphone with Versa, VirtualPartner X was published as a permanent application that uses GPS and therefore also measures the route accordingly with Versa. To enable Versa owners to continue using the VirtualPartner without GPS, the development of VirtualPartner (without X) was discontinued at the time and left in the Fitbit App Gallery.
Further development of the VirtualPartner takes place exclusively in the X version so that only with VirtualPartner X e.g. heart rate control or miles support is implemented.
Differences between VirtualPartner and VirtualPartner X 
There are the following differences between the VirtualPartner-Versions:
1. Starting screen of VirtualPartner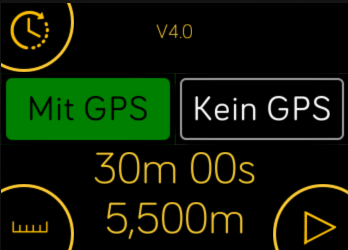 On the start screen of the VirtualPartner, you can determine whether you want to run with or without GPS. If you run the run without GPS, the distance covered is approximately determined by the number of steps taken and the step length stored in the user profile. The button "With GPS" flashes in red as long no GPS connection has been established. As soon as there is a GPS connection the start button in the right lower corner appears. 
If you choose "No GPS" the start button is available at once.
 2. Heart rate control
No heart rate control is integrated in the VirtualPartner. In this respect, you can only switch between the formats mm:ss and hh:mm in the extended runtime settings: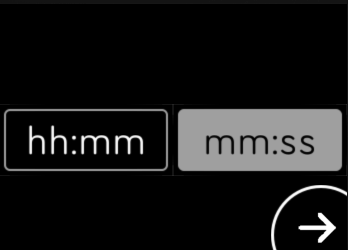 3. VirtualPartner supports only meters
In addition to meters, VirtualPartnerX also supports the measurement unit miles. The set metric is read directly from the user profile and does not have to be set separately. Please remember that this setting is changed in the smartphone app or dashboard via the PC and is not a property of the app. You can find out how this works in detail here